As part of our activity, we map Prague's architecture and introduce you to places that you might not visit on your own! Discover the beauty of Prague and notice the details around you with our new website!
You can read how to use the new website below. Recommended buildings and a map of places are already waiting for you!
Choose from 13 thematic routes
See how to get to the first stop of the route by public transport
Open navigation on your phone
Go from place to place
Read interesting information about the building at each location
Get to know Prague at your own pace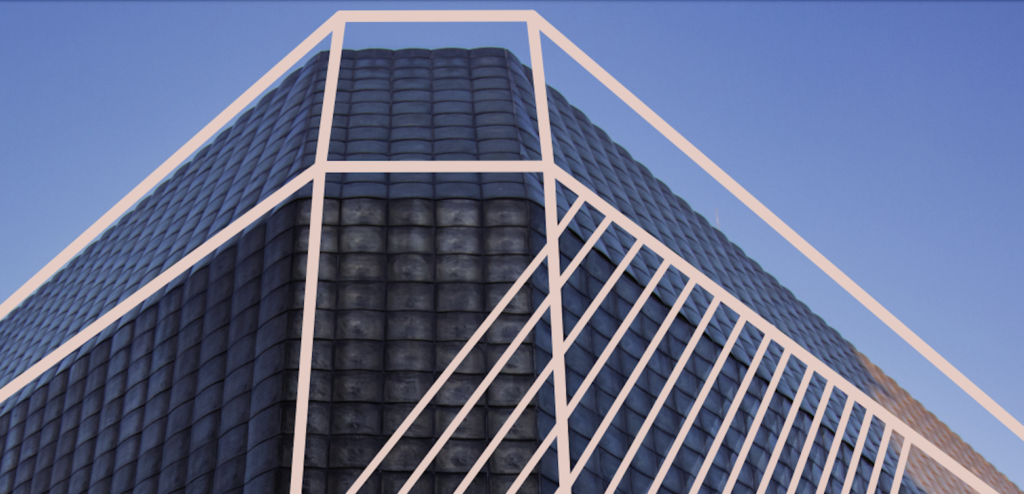 Each route has its own topic so that everyone can choose a walk according to what interests them. Some of the routes also include interactive leaflets so that those interested do not have to walk around the city with their phone in hand. Each walk is 2-5 kilometers long, and you will spend around an hour in the streets walking through the individual stops. On the website, we will advise you on the best way to get to the starting point by public transport, and a link to Google maps is used to navigate you from one stop to another. You can combine the routes in different ways – we recommend checking our Map to see if there are other architecturally interesting buildings in your vicinity.
What topics can I look forward to?
Architectural styles: brutalism, functionalism, cubism, rondocubism
Architect: Karel Prager
Buildings: churches from the 1930s, bridges, inner courtyards, arcades and passageways, concert halls and clubs
Next: houses of famous writers, glass elements on buildings, empty houses
In the menu under the Home tab, you can view the "List of places" that our website offers. You can filter them according to individual topics. An incredible 130 places around Prague await you on the website, including public buildings, churches, palaces, bridges, arcades, industrial buildings, cinemas or theatres, but also ordinary tenements and villas and other buildings of comparable value! Once you know what can be observed in specific types of buildings, the 130 places will expand into an endless variety of possibilities to focus on.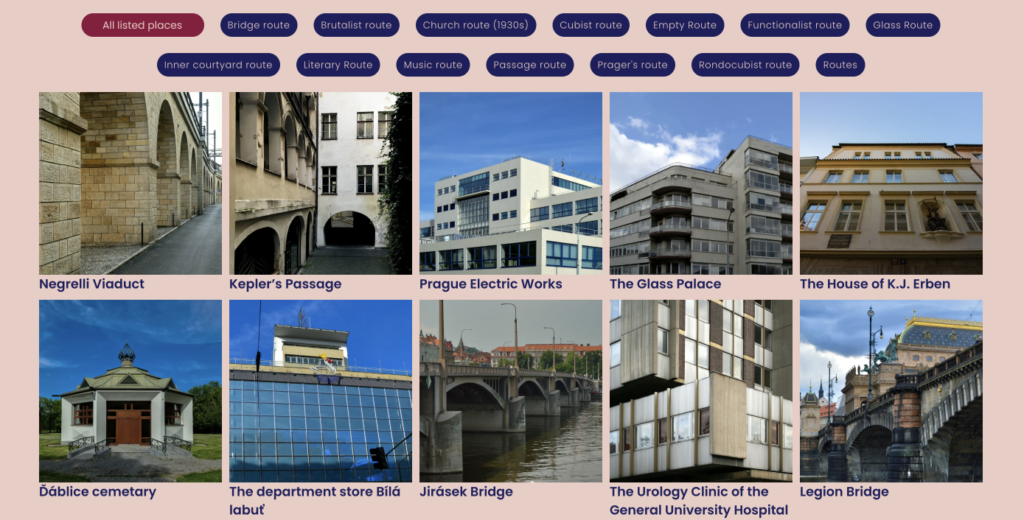 In the menu under the Home tab, you will also find a "Map" with all the buildings that you can find on our website within the individual routes. The map is an ideal tool to search by current location or by places, where you are about to go. We are sure that when hunting for individual monuments in our map, you will notice many more interesting houses and details by yourself along the way. In short, don't forget to look around you.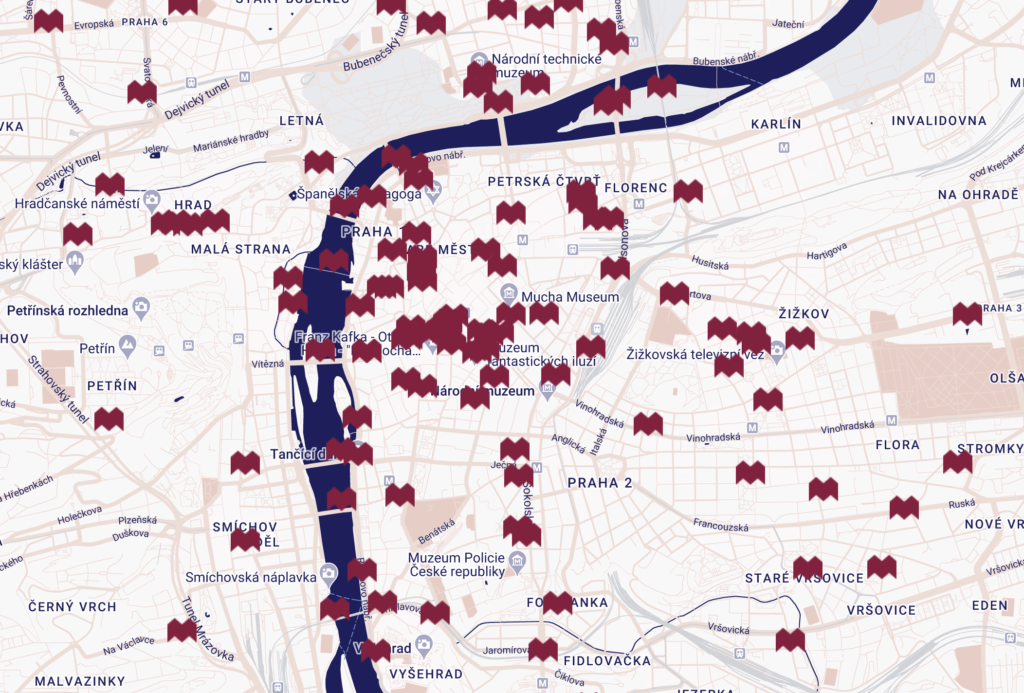 Mapamátky is an association dedicated to popularizing Prague's architecture. It consists of 11 enthusiasts who love Prague, buildings, and their stories. They convey their enthusiasm for architecture through thematic routes.. These tours showcase various places in their contexts. Get inspired and take a walk along one of the routes or explore a specific building to get up close with architecture. Once you are captivated, there is no turning back. Only forward, towards every other place you shouldn't miss in Prague! You can find out more about our activities under the Home tab – "About". There you will also find details on how to support our non-profit association. Thank you!